Here is a home energy savings great case study from a Control4 Guest Blogger: Eileen Komanecky
The unusually warm summer weather that most of us have been experiencing lately has caused quite a bit of discomfort. One of those discomforts is the crazy expensive electricity bill that results from cranking the air conditioning non-stop.  Receiving a big bill like that is often a wake up call to homeowners that they should take steps to save energy and use it more efficiently. The problem, however, is that we frequently hear about ways to save energy, but often times the specifics of the exact amount of savings in energy, and money, are vague estimates and difficult to measure in hard data. We thought we would present to you a real life situation along with the data to back up the energy savings claims.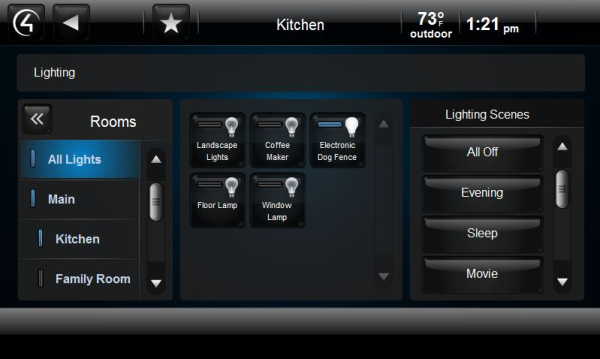 In this example, simpleHome's own Craig Heim was experiencing a frustration that many homeowners share. He would receive his electric bill each month that showed a big whopping amount of electricity usage. Being a family of four with both parents at work all week and the kids at school and busy with extracurricular activities, he wondered how could they be using so much energy. Fortunately, he was determined to answer that question and see what he could do to improve the situation.
What did Craig do? The first thing he did was address the lighting in his home. According to EnergyStar, lighting accounts for 15% to 20% of a home's energy use. Since LED use about 75% less energy than incandescent, it was a no-brainer first step for Craig to swap out his most frequently used inefficient lighting with new LED bulbs and recessed fixtures. LED lighting produces 75% less heat and last 6 times longer than incandescent, and do not contain mercury unlike compact fluorescent (CFL).  By focusing on the kitchen, hallways, bathrooms, and exterior lights, he got the biggest bang for his buck, since LED fixtures are a substantial initial investment.
Next, Craig decided it was important to dig into his home and understand how the energy was being consumed. Since Craig's home includes a home automation system, he was able to add Eragy's Energy Monitoring onto his system. That allowed him to see where the power was being used on a per-circuit basis. He could view his energy usage in real time, and also view the historical data of his energy usage by circuit. That information showed him areas ripe for energy savings.  For example, Craig learned that the HVAC system and certain home electronics devices were using a significant amount of energy at times when they were not needed, like when the family was sleeping and when they were away from home.
Armed with this information, Craig was able to make simple changes that do not affect his family's lifestyle, but effortlessly save significant energy. He utilized his home automation system to automatically turn off unnecessary devices and adjust cooling and heating set points when the home is unoccupied and when the family is asleep. He did this by using simple house modes keypads and buttons on his touchpanels.
As a result, Craig and his family have seen over a 30% decrease in their electricity usage since these changes were implemented. He was able to decrease his monthly electric bill from an average of $267 to $173. Over the course of a year, that will put over $1,000 back in his pocket! In addition, his family likes being able to use the energy management software to understand and see in real time how much energy they are saving at any given time. Saving energy without sacrificing lifestyle….who wouldn't want that?
*Eileen Komanecky is Director of Business Development at simpleHome, a custom electronics integration firm that serves greater Boston, mainline Philadelphia, and northern Vermont. Eileen is a CEDIA registered outreach instructor (ROI) and a LEED, Green Associate.